Runny or stuffy nose can cause many problems. People have problems with breathing, sleeping and sometimes runny nose can cause some unpleasant situation when you are surrounded by other people.
Then you have to clean and bowl your nose continually which can be very embarrassing. Here are some great tips on how you can clear a stuffy or runny nose instantly. When people have problems with runny or stuffy nose most of them will try to deal with this problem by using nasal sprays.
Nasal sprays are sometimes affective but they can have some unwanted side effects. They usually contain synthetic chemicals which can cause many problems and sometimes even addiction. If you have this problem you should use acupressure. It is a less harmful approach which is healthier and more effective.
To get rid of stuffy and runny nose you can use a tender pressure to four points of your face.
HOW TO CLEAR A RUNNY OR BLOCKED NOSE NATURALLY
If you have problems with runny or stuffy nose you should follow the directions and see how your nose responds.
General directions:
– Apply tender pressure with your fingertips
– Provide round movements
– push-release type of movements
– You should repeat this cycle 3 times
– You should not have any ache
Point 1:
– It is placed on a nasal cavity at the corner of nostrils
– it's the lowest position of the nasal cavity.
– Tenderly press the nostrils together and do a rotational movement. If you do this right, then your nostrils should almost be closed and then opened.
– You should push the lowest position of the nostrils. Be careful not to press on the nose gristle.
– Repeat the cycle 10 times.
Point 2:
– It is placed close to the nose, down below the corner of the eyes where the teardrops get out.
– Tenderly rotate at point 2 and perform it 10 times. You should rotate the skin at the corner of your eyes and you should not raise your fingers when you perform the rotation.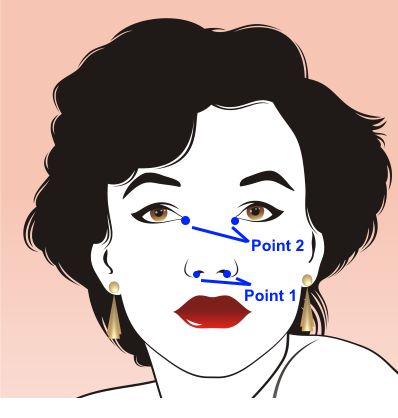 Point 3:
It is located at the lowest part of your ear, behind the auricle, in the cavity of the ear, below the gristle.
You should do pushing-releasing type of pressure and you should repeat this 10 times. But be careful not to do this type of pressure to the gristle.
Point 4:
Point 4 is the auricle.
Perform a tender massage of the auricle and repeat it 10 times.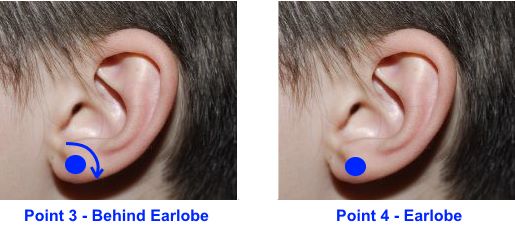 You should feel instant alleviation of the symptoms when you pass through these acupressure points three times. And if you want better outcome, do this treatment again after 15 minutes. Acupressure is free, safe and easy to perform.
You can do it in your free time and it can be performed everywhere. It is good for your entire body. Besides acupressure you can use natural aids to clear blocked or runny nose.
You can find out about these aids in posts about best homemade natural aids for stuffy and runny nose.